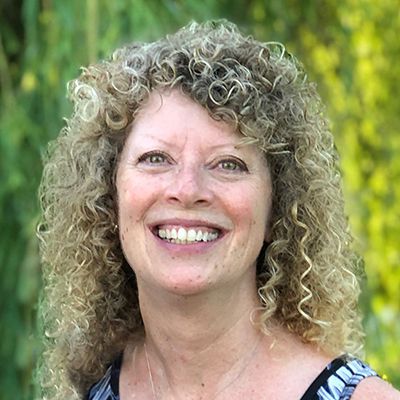 I'm passionate about nature. The artwork I make has my photography of landscapes, birds or flowers as its base. Using Adobe Photoshop or Prisma, I make three to four variations of the photo — giving the image different textures and color hues — and hand cut the photo prints into strips. I build the scene on panels with sections from each of the altered photos. Sometimes I add in pieces of handmade papers, topographical maps, text, or fragments from old ledger books so as to further abstract the scene. I'm moving from a photographic documentation of a place at a particular time, to an impression of a place that is timeless ... more of a memory or a feeling of the space.
All the work is on 1" to 2" deep cradled panels with wires for hanging. The fronts have a canvas texture to adhere the paper to with acrylic matte medium, and I usually stain the wood edges. The photos are lightfast laser prints, and I coat each artwork with a UV gel medium topcoat.

Lori Reed's Biography
Growing up on a farm in western Illinois instilled in Lori Reed a passion for nature and a deep sense of the movement through the seasons. She spent her childhood surrounded by animals, pastures, crops and woods. She loved going with her dad to see the newborn baby calves out in the pasture in the spring ... playing in the creek ... picking wildflowers with her parents in the timber ... watching birds from the rudimentary tree house she constructed ... lying in the summer grass looking at the stars filling the dark night sky ... waiting for the unbelievable sunsets beyond the rows of corn ... sledding down the big snow-covered hill in the pasture in front of her house.
Lori's grandmother and mother were both nature lovers and always pointed out beauty when they saw it. The affect they had on Lori is that she responds to nature in her daily life and brings it into her work. When Lori was seven years old, she made a drawing of a deer and handed it to her grandmother. Her grandmother's eyes grew wide and she exclaimed, "Why, Lori, you are going to be an artist one day!" The seven-year-old felt her future had been foretold —as grandma never lied—and believed from then on that she was an artist in the making.

Lori's high school art teacher encouraged her in art and pushed Lori to apply to colleges. Her dream was almost derailed when her high school guidance counselor mistakenly told her "you'll have to be a nude model if you go to art school." When she finally got the courage to tell her art teacher why she'd stopped her college search (after all, she assumed her art teacher had done nude modeling in order to get her art degree!), the teacher set her straight and got Lori back on course.

Lori was in a fine art curriculum for two years of college and then switched to graphic design when a summer job in design ignited her interest. After receiving a BFA in graphic design from the University of Illinois, Lori worked in graphic design for her career. But fine art crept back into her life in 2005 in the form of mixed media collage. Lori's first husband, Rob Reed, was a graphic designer and sculptor. He encouraged Lori to pursue art outside of her "day job" of designing for clients. In 2006, the two had their first of four gallery shows together where Rob exhibited stone and metal sculptures and Lori showed mixed media collage.

Lori's first body of work was in the traditional sense of mixed media collage. She used old photos, book text, maps, Viewmaster reels, and interesting papers to hint at a story when placed together in a collage. After a trip to Yellowstone National Park in 2009, she was filled with a strong desire to use photographs from the park in her art. Running filters on the images in Adobe Photoshop so as to make the work more painterly, she experimented with cutting the prints into rectangles or tearing them to combine with other variations of the image.

Shredding...
While preparing for a collage workshop with local college students for "recycling weekend," Lori had the idea of putting papers through a shredder to give the students something interesting to work with. A light bulb went off: she could run the altered images of her photos through a paper shredder and make a new scene out of the quarter-inch strips of three or four altered photos!

Lori has since fine-tuned the process and cuts the strips with an X-acto knife and ruler so that she doesn't spend so much time sorting the strips of paper. She will add handmade papers, strips of topographical or road maps into the image, book text or pieces from an old ledger book. She was given several small bags of shredded U.S. currency from the Federal Reserve, so those little pieces appear in the foliage of her landscapes.

Chapter Two
Lori's husband Rob died in 2014 following a heart surgery. Devastated to have lost her partner in life, work, and art, Lori turned to art making as a way of finding her path back to the living. She shared walking her grief journey with Kevin, a high school classmate (whom she'd dated off and on during their junior and senior years). As the months went on, they realized if they could ever date someone again it would be easy to start with someone they'd dated 40 years before. They are now married and grateful for a supportive Chapter Two with another partner. They travel often and Lori takes photos with a future collage in mind as she frames each shot.

Joy
If you meet Lori, you quickly realize she's a positive, happy person. She brings that outlook to her art making as well. On each cradled panel, she writes the word "JOY!" in pencil in the lower left corner. She says she feels joy when she starts working on an art piece and hopes a viewer will see the artwork, feel a connection to it, buy it and feel joy every day they look at it in their home or office.

Her Art-making Process
Once people stand in front of some of her work, they always ask, "How much time do these take to make?" Lori responds, "All my life" as she's realized it's been a slow build of skills over the years. She took three photography classes in college, so it's second nature to know how to frame a good photo to start with. Her classes and work as a designer taught her eye-flow, composition, and Photoshop skills. She resists timing the creation of a piece as that's too much like her career as a graphic designer — tracking billable hours! Instead, she loves how she has no sense of time as she's creating. She's simply in a happy creative space. As she's painting each strip of paper with matte medium to glue it down, and then coating the surface with more medium, her fingers get coated as well. She loves the messiness of the creative process — and the joy.

Spreading the Joy
Lori has been exhibiting her artwork since 2006 in group or two-person shows. She's had her work accepted into national juried shows in Illinois, Iowa, New York and Colorado. She was awarded the Purchase Prize in GALEX 44 in 2010, so her piece "More Than Merely Ourselves" is in the permanent collection of the Galesburg Civic Art Center. In 2011, Lori received an Honorable Mention prize in the Open Small Works show of the National Association of Women Artists Gallery in New York, New York for her artwork "Impressions". She received Second Place in the CAC at DAAC show in 2022. Over the past 15 years, she's sold her work in galleries located in Arizona, Illinois, Iowa, Michigan, Montana and Wisconsin. Lori retired from graphic design at the end of 2019 and is devoting herself completely to the joy of creating art.
Resume
Buchanan Center for the Arts in Monmouth, Illinois – 64 Arts, September 2023
Springfield Art Association in Springfield, Illinois – No Place to Show, July 2022
Buchanan Center for the Arts in Monmouth, Illinois – 64 Arts, September 2019
Galesburg Civic Art Center in Galesburg, Illinois – GALEX 51, March 2017
Buchanan Center for the Arts in Monmouth, Illinois – 64 Arts, September 2016
Galesburg Civic Art Center in Galesburg, Illinois – GALEX 48, March 2014
Buchanan Center for the Arts in Monmouth, Illinois – 64 Arts, September 2013
Buchanan Center for the Arts in Monmouth, Illinois – 64 Arts, September 2012
Abecedarian Gallery in Denver, Colorado – Artists' Book Cornucopia III, April 2012
Galesburg Civic Art Center in Galesburg, Illinois – GALEX 46, March 2012
Art Buzz International Competition published in Art Buzz Collection 2012
Buchanan Center for the Arts – in Monmouth, Illinois – 64 Arts, August 2011
Western Colorado Center for the Arts in Grand Junction, Colorado – 2011 National Contemporary Exhibition, May 2011
Galesburg Civic Art Center in Galesburg, Illinois – GALEX 45, March 2011
National Association of Women Artists Gallery in New York, New York – Open Small Works, February 2011
Buchanan Center for the Arts in Monmouth, Illinois – 64 Arts, August 2010
Galesburg Civic Art Center in Galesburg, Illinois – GALEX 44, March 2010
Abecedarian Gallery in Denver, Colorado – Imagination Navigation, November 2009
Bucktown Center for the Arts in Davenport, Iowa – Venus Envy Quad Cities, May 2009
Bucktown Center for the Arts in Davenport, Iowa – Venus Envy Quad Cities, May 2008
Bucktown Center for the Arts in Davenport, Iowa – Venus Envy Quad Cities, May 2007
Galesburg Civic Art Center in Galesburg, Illinois – GALEX 41, March 2007
Macomb Arts Center in Macomb, Illinois – The Art Sistas, October 2023, 6-person show
Galesburg Community Art Center in Galesburg, Illinois – Members & Friends, August 2023, group show
Exhibit A Gallery in Peoria Heights, Illinois – Small Artistry Exhibit, August 2023, group show
Contemporary Art Center in Peoria, Illinois – Flowers for Ukraine, July 2023, group show
Galesburg Civic Art Center in Galesburg, Illinois – The Art Sistas, June 2023, 6-person show
Studios on Sheridan in Peoria, Illinois – Hot CIAO X, March 2023, group show
Decatur Area Arts Council in Decatur, Illinois – CAC at DAAC Show, September 2022, group show
Galesburg Civic Art Center in Galesburg, Illinois – Members & Friends, August 2022, group show
Studios on Sheridan in Peoria, Illinois – Hot CIAO IX, July 2022, group show
Peoria Art Guild in Peoria, Illinois – Members Show, May 2022, group show
Contemporary Art Center in Peoria, Illinois – CAC Member Artists Biennial, February 2022, group show
Studios on Sheridan in Peoria, Illinois – Hot CIAO VIII, October 2021, group show
Contemporary Art Center in Peoria, Illinois – Pieced Together, August 2021, two-person show
McLean County Arts Center in Bloomington, Illinois – CAC at MCA, July 2021, group show
Exhibit A Gallery in Peoria Heights, Illinois – Feathers and Fur Show, July 2021, group show
Peoria Art Guild in Peoria, Illinois – Members Show, May 2021, group show
Galesburg Civic Art Center in Galesburg, Illinois – River to Rails II, May 2021, group show
Exhibit A Gallery in Peoria Heights, Illinois – The Clipboard Show, May 2021, group show
Galesburg Civic Art Center in Galesburg, Illinois – Moments of Joy, November 2020, two-person show
Exhibit A Gallery in Peoria Heights, Illinois – New Beginnings, August 2020, group show
Exhibit A Gallery in Peoria Heights, Illinois – This Is Me, November 2019, group show
C2C Gallery in Grand Haven, Michigan – Woods-Water-Words, August 2019, solo show
Galesburg Civic Art Center in Galesburg, Illinois – River to Rails, May 2019, group show
Peoria Art Guild in Peoria, Illinois – Members Show, May 2019, group show
McLean County Arts Center in Bloomington, Illinois – Recollections, April 2019, solo show
Buchanan Center for the Arts in Monmouth, Illinois – Media Mix, April 2018, four-person show
C2C Gallery in Grand Haven, Michigan – Water's Edge, July 2017, solo show
Carl Sandburg College in Galesburg, Illinois – Women's Work, January 2014, group show
Quad City International Airport Gallery in Moline, Illinois – January 2014, three-person show
Galesburg Civic Art Center in Galesburg, Illinois – Interference Series, July 2013, solo show
Buchanan Center for the Arts in Monmouth, Illinois – Six Women - Six Words - Six Works, December 2010, group show
Galesburg Civic Art Center in Galesburg, Illinois – Plains and Planes, November 2010,
MidCoast Gallery West in Rock Island, Illinois – Paper & Stone, September 2008, two-person show
Buchanan Center for the Arts in Monmouth, Illinois – Uncovered, Discovered & Manufactured, May 2008, two-person show
Monmouth College Len G. Everett Galleries in Monmouth, Illinois – Rock-Pixel-Scissors, February 2006, two-person show
B.F.A. University of Illinois
Partial List of Collectors
Galesburg Civic Art Center, permanent collection, Purchase Prize in GALEX 44
Ronald McDonald House Peoria, 3 pieces in permanent collection
Caterpillar's Hamilton Square office building in Peoria, 7 pieces in the lobby
Mercy Medical Center, Hall Perrine Cancer Center, Cedar Rapids, Iowa, 6 pieces
Dr. Karen Cates, Livingston, MT
Sue & Peter Gorr, Palatine, IL
Elaine Madansky, Glenview, IL
Sean and Kathleen O'Donnell-Brown, Macomb, IL
Dr. Reuel & Kathy Owen, Galesburg, IL
John & Pam Van Kirk, Phoenix, AZ
Marvin Niebuhr, Lubbock, TX
Linda Sickmon, Oquawka, IL
Karen & Vinnie Dunn, Fairfax, VA
Marcia Dobson, Colorado Springs, CO
Michael Martone, Tuscaloosa, AL
Mike & Felicia Williams, Sulphur Springs, TX
Deedra Kaspar, Evergreen, CO
Suzanne & Mike Zywanski, Naperville, IL
Katie Yarger, Kalamazoo, MI
Karin & Vinnie Dunn, Fairfax, VA
Elissa & George Clark, Signal Mountain, TN
Julie Dunbar, Bloomington, IL